Archive for the 'Adam Sandler' Category
April 7, 2009
Comments off
Sony chairman, Howard Stringer, is hanging on, but his employees are not, jumping ship to get away from his madness…and forthcoming criminal charges. First BMG left, now Ericsson wants out.
Sony Ericsson USA boss, Najmi Jarwala, quit his job this week at the crumbling company. This marks the third Sony division head that has quit in the last month.
The Sony electronics and Sony IPL CEOs also quit their respective jobs. Sony is suffering massive sales declines and losses in every area of trade, far worse than all of their competitors. Hmm I wonder why. God doesn't like ugly and neither does the product buying public.
I have every right to be angry regarding this questionable company. Their conduct towards me has been predatory, invasive and illegal.
A few years ago, they invited me to Sony (in writing). I did not go.
Shortly after, Sony started spying into my computer via an item they sent me as an unsolicited gift (contained backdoor computer trojan). Sony was sued in 2005 by U.S. state attorneys and consumer groups for similar misconduct in the DRM scandal.
In 2005, Sony illegally dove headfirst into my Copyrighted Catalog without permission, that contains 12,000 songs, 300 movie scripts and short stories, 15 book manuscripts, 200 music video treatments, 500 photographs, 150 photo treatments, a perfume line and clothing line. They illegally passed it around to Sony's music and film artists and writers, who knowingly infringed my Copyrights and routinely visit my websites (before and after the infringements occurred). They criminally received an illegally made copy of my Copyrighted Catalog, procured through hacking commissioned by Madonna, whose lawyer, Robert Jacobs of Mannat Phelps, is also in charge of Sony's music catalog (Madonna has a side distribution deal with Sony). I later met Jacobs at a legal case management meeting, when he came up to me and bizarrely started shaking my hands and trying to strike up a conversation.
Sony is the same company that previously ripped off my godmother's husband, Clement Coxsonne Dodd, who invented ska and reggae music and signed Bob Marley and many others to record deals. Sony infringed his copyrighted music as well, which he had to sue them regarding.
Then (Madonna and Sony) they started having producers like Timbaland, Jellybean Benetez and Sean "Diddy" Combs, try to contact me.
Sony has been watching me and my work for years, with very ill intentions. They are predators that have broken the law at my expense, to the point it made me physically ill.
These people have been preying on me, circling me like sharks and vultures, when I had no intention of joining any of their companies for any reason. Their conduct towards me has been so ugly, unseemly, unprovoked and uncalled for.
I have every right to be angry and feel violated, as much of their conduct crossed into illegal territory for which they deserve imprisonment.
Sony Ericsson takes a merciless beating
Published March 24, 2009, 12:17 PM – First the joint venture predicted a huge loss for its upcoming earnings call, then it lost its North American leader. What's next?…
On Friday, the joint venture announced that it could post a loss of between €340-390 million for the first quarter of 2009…the company's presence in the smartphone category remains weak.
Yesterday, Sony Ericsson announced that Najmi Jarwala, President of Sony Ericsson USA and the head of the North American division, would be leaving at the end of this month to "pursue other career opportunities." …
Further fueling this speculation were the rumors that wireless hardware company Ericsson was looking to get out of the joint venture.
One thing is certain, if Sony Ericsson's losses actually exceed the €390 million the company warned, this will not be the last bad news we hear from the company this month.
http://www.judiciaryreport.com/sony_madness.htm
June 6, 2008
Comments off
Hollywood Steals More People's Copyrights Again
Judd Aptow A Repeat Offender
The 2007 Universal "everything is on fire" Pictures movie "Knocked Up" starring Katherine Heigl is the subject of a copyright infringement lawsuit filed last year.
In the lawsuit, an author, Rebecca Eckler, contends her preexisting copyrighted 2004 book "Knocked Up: Confessions of a Hip Mother-To Be" was infringed, down to the book cover. There are overwhelming similarities between the two and knowing Hollywood, I wouldn't put it past them to do this.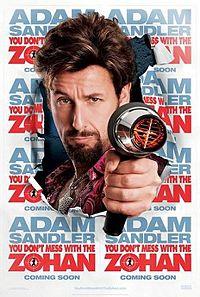 The copyright infringing piece of garbage "You Don't Mess with the Zohan"
I believe her, as the so-called writer of the movie Knocked Up, Judd Aptow, is a co-writer of the forthcoming  rip off film "You Don't Mess With Zohan" which is also chock full of criminal copyright infringement and sick references. The film stars Adam Sandler, who also claims to have co-written it. Yea, right.
These losers clearly can't do a movie without stealing someone else's work, which is illegal. And another thing, what kind of man steals from a woman.
Hit Movie "Knocked Up" With a Lawsuit
June 6, 2007, 5:03 pm – Apatow (pictured) and Universal Studios have been sued for copyright infringement, reports TMZ.com. Here's the complaint.
Rebecca Eckler (pictured) claims that when she was shopping around the movie rights to her 2004 book "Knocked Up" she learned of Apatow's project.
The script making the rounds, she alleges, had a picture of a martini glass with a pacifier around the stem — the same as on the cover of her book.
She says that the movie incorporates substantial portions of her memoir, about her accidentally getting pregnant the night of her engagement party. She says the main female character in "Knocked Up" is an up-and-coming television reporter; the main character in her book is an up-and-coming newspaper reporter.
Story found here