"Knocked Up" Copyright Infringement Lawsuit
Hollywood Steals More People's Copyrights Again
Judd Aptow A Repeat Offender
The 2007 Universal "everything is on fire" Pictures movie "Knocked Up" starring Katherine Heigl is the subject of a copyright infringement lawsuit filed last year.
In the lawsuit, an author, Rebecca Eckler, contends her preexisting copyrighted 2004 book "Knocked Up: Confessions of a Hip Mother-To Be" was infringed, down to the book cover. There are overwhelming similarities between the two and knowing Hollywood, I wouldn't put it past them to do this.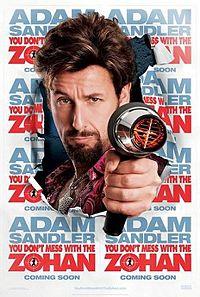 The copyright infringing piece of garbage "You Don't Mess with the Zohan"
I believe her, as the so-called writer of the movie Knocked Up, Judd Aptow, is a co-writer of the forthcoming  rip off film "You Don't Mess With Zohan" which is also chock full of criminal copyright infringement and sick references. The film stars Adam Sandler, who also claims to have co-written it. Yea, right.
These losers clearly can't do a movie without stealing someone else's work, which is illegal. And another thing, what kind of man steals from a woman.
Hit Movie "Knocked Up" With a Lawsuit
June 6, 2007, 5:03 pm – Apatow (pictured) and Universal Studios have been sued for copyright infringement, reports TMZ.com. Here's the complaint.
Rebecca Eckler (pictured) claims that when she was shopping around the movie rights to her 2004 book "Knocked Up" she learned of Apatow's project.
The script making the rounds, she alleges, had a picture of a martini glass with a pacifier around the stem — the same as on the cover of her book.
She says that the movie incorporates substantial portions of her memoir, about her accidentally getting pregnant the night of her engagement party. She says the main female character in "Knocked Up" is an up-and-coming television reporter; the main character in her book is an up-and-coming newspaper reporter.
Story found here